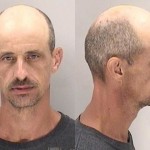 The Richmond County Sheriff's office inadvertently released probationer Gregory Self (pictured) from the jail Thursday night and are trying to track him down.
It's the second inmate the jail has mistakenly released in the last two months. The last one was a suspect wanted for murder who remained free for over a month.
In the most recent case, authorities say Self was committed to the detention center on a probation violation in August. He was driven to court Thursday to appear on a criminal trespass charge and was sentenced to 90 days for the offense.
Self, who is a trustee, would have been released on Jan. 23. But after Self's return to jail, his sentence was miscalculated, leading to his inadvertent release, sheriff's Lt. Allan Rollins said in a press release.
"The Sheriff's Office is actively seeking Gregory Self to return him to the Detention Center to complete the short amount of time left on his sentence," Lt. Rollins said.
In the previous case, an individual identifying himself as Alphonso Bray was booked into the Richmond County Jail for a local charge of disorderly conduct which did not require fingerprinting. The subject was freed on a cash bond.
"As he was exiting the jail on October 31, he was required to submit to a fingerprint scan, and the fingerprint scan came back identifying him as Terrance Brown, an individual wanted in Burke County for a Grand Jury arrest warrant for murder," Lt Rollins said at the time. "The booking officers did not notice the discrepancy."
Brown's picture (shown at right) appeared in The Jail Report under the Bray alias and family members of Bray identified Brown to the Richmond County Sheriff's Office.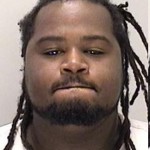 A month later, on Dec. 2, authorities with the U.S. Marshals Service, Jefferson County Sheriff's Office, and Wrens Police Department captured Brown and he remains jailed in the Burke County Jail.
After Brown's mistaken release, the Richmond County Sheriff's Office said they were initiating a review of the procedures and an internal investigation into the release.