Recognizing the need to reduce the number of repeat offenders in the judicial system, the Richmond County Sheriff's Office and Augusta Technical College are proud to announce the start of a General Education Development (GED) program at the Charles B. Webster Detention Center.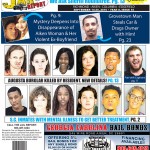 For more crime news, pick up this week's edition of The Jail Report, sold in local gas stations for $1.50.
The goal of the GED program is to provide a quality education program to inmates and equip them with the competencies necessary to become productive, crime-free members of society.  The GED program is offered to inmates who possess neither a high school diploma nor a GED diploma.
Certified academic teachers from the Augusta Technical College's Adult Education Department will provide mathematics, reading, language, and workforce readiness instruction to inmates with low academic skills.  Students' academic levels will be assessed on a regular basis and inmates are afforded the opportunity to secure GED diplomas.
Studies have shown that inmates who participated in high school/GED programs had 30 percent lower odds of recidivating than those who had not and the odds of obtaining employment post release among inmates who participated in correctional education (either academic or vocational programs) was 13 percent higher than the odds for those who had not participated.
GED Preparation classes will be during the daytime hours at several locations throughout the Detention Center and classes will begin on September 19, 2016.
To achieve the GED diploma, the inmate must receive a passing score on each section of the GED test areas and minimal passing scores will be based on a total of 2250 points.  No individual test score may fall below 410 and they must have an average standard score of 450 in order to pass.
Inmates who score below 410 on any test must retake that test even if the total score for all five tests is 2250 or higher.  If these requirements are not met, a waiting period for retesting may apply based on the average score attained by the examinee.  Inmates who do not earn at least 2250 points and who desire to retake the test may do so once the waiting period expires or if the inmate enrolls in GED preparation classes, he/she may retest when the instructor certifies that they are ready to test again.
Upon successful completion of the GED test, the graduate will receive a GED diploma.