Three people have been charged in connection with the Augusta shooting death of a man whose body was found lying in the street last week.
Christopher Barry, 24 (from left), Samantha Griffin, 24, and Kameron Reese, 25, were each charged with murder, armed robbery and kidnapping in the death of 27-year-old Cordeldrick Laquinn Brooks of South Carolina (pictured below).  Reese and Barry were also charged with weapon possession and Reese was also charged with unlawful street gang activity.
(For more crime news, check outs week's Jail Report. Cover: http://bit.ly/1LjYtPH)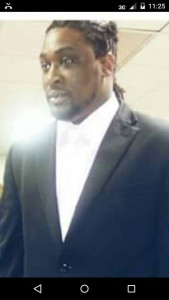 The arrest warrants spell out a crazy robbery scheme that turned deadly:
The suspects allegedly lured victims to Griffin's apartment at East Augusta Commons to rob him at gunpoint. They made him remove his clothing in search of money.
"When no money was found on the victim's person he was told that he was to take (them) to an ATM to withdraw money," the warrants say.
While driving to suspects to the ATM, the victim suddenly rammed his vehicle into a utility pole, exited the vehicle and ran away.
"As he attempted to escape, he was shot twice in his torso," a warrant says. He was later found dead in the street.
Barry was arrested Tuesday while the other two were arrested last week.
The victim's body was found last Tuesday morning (Sept. 22) at Old McDuffie and Lumpkin Road, and it appeared he had suffered a gunshot wound, authorities said.