A young Augusta mom was fatally shot in the chest early Saturday and died at Augusta University Medical Center, authorities said.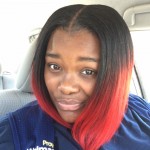 LaShawn R. Sims, 22, was shot once at 2:30 a.m. on Bertram Court in Augusta and was pronounced dead at the hospital ay 3:22 a.m., Chief Deputy Coroner Kenneth Boose Sr. said in a press release.
The Richmond County Sheriff's Office has not said anything about the shooting, suspects or motive. Sheriff's Sgt. Monica Belser said that investigators have not passed on any information on to her to release.
Friends of the victim woke up to the terrible news about the death of Sims, who has a young son, Brice. On her Facebook page, LaShawn spent the week celebrating the birth of a nephew and telling friends how her son just lost his first tooth.
Here are a few Facebook posts from her friends:
From Katina Brown-Winston: "We love you, LaShawn Sims. RIP friend, Dept manger, Brice's mama!! We miss you already. The Good die young!! Young Pretty! Please pray for the Sims family."
From Inez Wilson: "It saddens my heart that people feel as though it's simply ok to take the life of another… not even considering their children, siblings, parents, friends… or anyone… im soooooo hurt by the passing of my coworker… I just really started bonding with her… so sweet and always working hard when I see her. I'm really gonna miss her smile… this is so sad…. people you never know when you meet someone if it will be the last time… make every moment count! Rest well."
From Raven Tolbert: "That's so sad and Idk what to say .. prayers to her family and most definitely to her baby boy Brice 

❤

 it's to close to Christmas."
Note: If you have information to share about LaShawn, or a photo or memory, please text it to The Jail Report at 803-487-3224.