Chevy celebrated his 12th birthday with a basketball-themed cake and lots of hugs.
Edward McKenzie Jr., or "Chevy," died two days later while inside his Aiken home, the result of a drive-by shooting, according to police. His killer remains on the loose.
Here is that happy, but heart-wrenching video of the boy's last birthday party, followed by information on how to donate to the family.
The homicide happened around 3:30 am. Saturday at 1415 Wyman Street, not far from North Aiken Baptist Church. The Aiken Department of Public Safety responded to the residence for shots being fired.  The victim was killed inside the home from the drive-by shooting, Coroner Daryl Ables said in a press release.
The victim was pronounced dead on the scene from at least one gunshot wound.  A second child, a 13 year old, also sustained a minor gunshot wound to the leg and was treated at the scene, authorities said.
Here is the unedited message from Tipp Martin on Facebook:
"Hello everyone where do I begin I'm started this fundraiser because Saturday morning the most terrible thing happen to my family my sister Shamecia Martin house was in the middle of a crossfire and there was a drive buy shooting leaving her only son she had Edward Fargo McKenzie Jr dead my nephew just turned 12 october 8.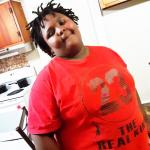 "They killed my nephew in his sleep my nephew has been threw so much pain threw his whole life from bad asthma attacks so many sleep studies grown people and kids always tease him bout his weight and that would always affect him my sister just got done teaching him not to worry bout what people think of him and he was just coming out that shell of not caring any more and some coward took that away from him.
"My nephew will never be able to live his life graduate me and my five siblings have lost our parents now we have to hold our sister up and give her all the strength she need to lay her son to rest so I'm not asking for much just whatever you can spare and I know my family would appreciate that….. #LongLiveChevy."
To donate to the family, try this link, or look up "Tipp Martin" on Facebook and follow her link to donate.
Anyone with information on this crime should call Aiken Department of Public Safety at (803) 642-7620 or CRIMESTOPPERS at 888-CRIME-SC (888-274-6372). Callers may remain anonymous and may receive a cash reward up to $1000.