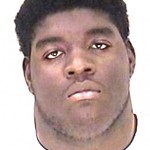 School officers have arrested four people in Friday's brutal attack on a Hephzibah High freshman for his shoes.
Javarious Bates, 18 (top photo, from left), Quantevius Russ, 18, and Michael Jamel Williams, 17; are all charged with criminal attempted robbery (felony) and battery (misdemeanor).
School officials say the juvenile who recorded the attack was also charged since it appeared from the video that the act was pre-planned. (To see video, click here.)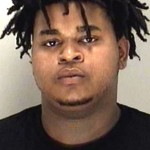 All three suspects were picked up Tuesday afternoon are being held in the Richmond County Jail. Details of the juvenile's arrest was not clear.
The suspects are accused of plotting to take a pair of $120 shoes from A.J. Hadden, a skinny 14-year-old freshman who got his black Air Jordans for Christmas.
When A.J.  refused to hand over the shoes in the school parking lot, one of the suspects – believed to be Bates – picked him up and slammed the 115-pound kid  to the hard concrete.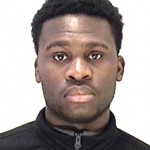 On video, the other two are seen rushing in, kicking and punching the victim. Next, they drag him across the concrete and try to pull his shoes off him but fail.
A.J.'s friend is heard screaming as loud as she can for the attackers to stop.
On Friday, an investigation led only to a disorderly conduct charge against Quantevius Russ, and he was released on a $250 bond on Sunday. That charge has now been upgraded.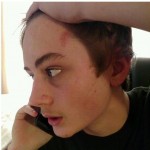 The victim (pictured at right, showing a head injury) sustained a ruptured ear drum, multiple bruises on his chest, stomach, arms and legs. He has not returned to school, and his mother says she is considering home-schooling him or moving him to another school in the district.
  Pick up Wednesday's new edition of The Jail Report for more on this story.