An Augusta caregiver caught her patient's 20-year-old son putting feces into the mouth of his disabled mother on Tuesday, authorities said.
It was a disturbing discovery that may have been going on for months.
Quasi Dewayne Kelly, 20, of Melrose Drive, (shown at right from Facebook), was charged Wednesday with exploitation of disabled person and he remains in jail under no bond.
The victim's husband, Tyrone Jenkins, came home Tuesday afternoon to check on his wife Tonya and found his wife's caregiver in shock, a sheriff's report says. She was hysterical.
The caregiver said the man's son had put feces into his mother's mouth.
"Tyrone said he does not understand why his son would do such a thing," the report says. "His son refuses to get a job and wanders the neighborhood day and night."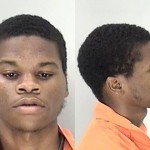 The caregiver, Pamela Thomas, told authorities that she was with the victim as she laid on the sofa watching TV in the living room. She said Kelly leaned down, gave his mother a kiss and put something in her mouth that looked like chocolate. The victim started chewing.
Kelly then went to the door and said, "I'll be back!"
The caregiver started smelling something horrible and went to her patient, quickly realizing that Kelly had put feces in her mouth.
"The caregiver grabbed her latex gloves and started getting it out. She also grabbed a blanket and tried to get it out. She then took the victim next door and the neighbor returned to the house with them to wait for the woman's son to arrive home.
According to the sheriff's report, the caregiver takes care of the 45-year-old patient five days a week during work hours. She said she noticed over the last few months when she arrived that Mrs. Jenkins had a "foul odor to her breath," but she could not figure out what was causing it.
Mrs. Jenkins has a diminished mental state and was diagnosed with dementia in 2011. She often wanders away if she is not observed constantly, the sheriff's report says.
The caregiver told authorities that she has expressed concern to the woman's husband about how their son acts around his mother.
"She stated something has seemed a little strange for a few months," the report says.
For more crime news from the CSRA, pick up this week's edition of The Jail Report.