SLED has been asked to investigate a death of an inmate from the Aiken County Jail that occurred about 6 p.m. Thursday.
The male inmate was not identified as authorities work to notify his family.
A sheriff's press release from Thursday night explains the death:
"A detention officer was conducting a routine check when they noticed an unresponsive inmate in a shower.  Aiken County EMS was notified while detention officers and onsite medical staff performed life saving measures until EMS arrived.  EMS transported the inmate to Aiken Regional Medical Center where he was treated and subsequently passed."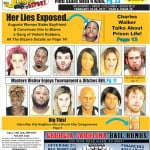 The sheriff's office policy is to call in SLED for an independent investigation. Stay tuned.
For more law-enforcement news, pick up this week's edition of The Jail Report.