Despite claims by the family of Robert Wright that he was unjustly shot 38 times in an April confrontation with police in Aiken, a SLED report says differently.
The report, obtained by The Jail Report, says the fleeing felon was shot a total of 17 times after he fired a gun and pointed the weapon at officers. He died at the scene.
A dozen officers with a U.S. Marshals Task Force tried to capture Wright on multiple felony warrants on April 7, but he struck a police car while fleeing the parking lot of Americas Best Value Inn on Whiskey Road in Aiken, the report says. A five-mile chase ended on Charleston Highway and East Pine Log Road after officers performed a PIT maneuver, causing the police vehicle and Wright's car to collide.
"Wright was given numerous loud verbal commands to show his hands," the SLED report says. "Officers witnessed Wright manipulating something below the dashboard and heard what they believed to be one shot fired by Wright while inside of his vehicle."
The report says Wright pointed his firearm at Task Force Officer George Becker, leading him and Officer O.C. Evans to shoot the suspect with a Glock Model 17 9 mm pistol and Colt Model M4A1 rifle. In subsequent interviews with SLED, the two officers  said they feared for their lives and the lives of other law enforcement before shooting.
"SLED Crime Scene agents located a Ruger 57 in Wright's vehicle," the report says. "The cartridge located inside of Wright's vehicle was fired by the Ruger 57."
EMS arrived and found Wright with no signs of life, and his body was transported to the coroner's officer for processing and autopsy.
Results of the SLED investigation have been forwarded to the office of Second Circuit Solicitor Bill Weeks, who has not yet commented on the findings or any decision on charges against the officers.
The family has called for justice in the shooting, saying in different protests that he was shot 38 times and was unarmed. One relative labeled the officers as "murderers."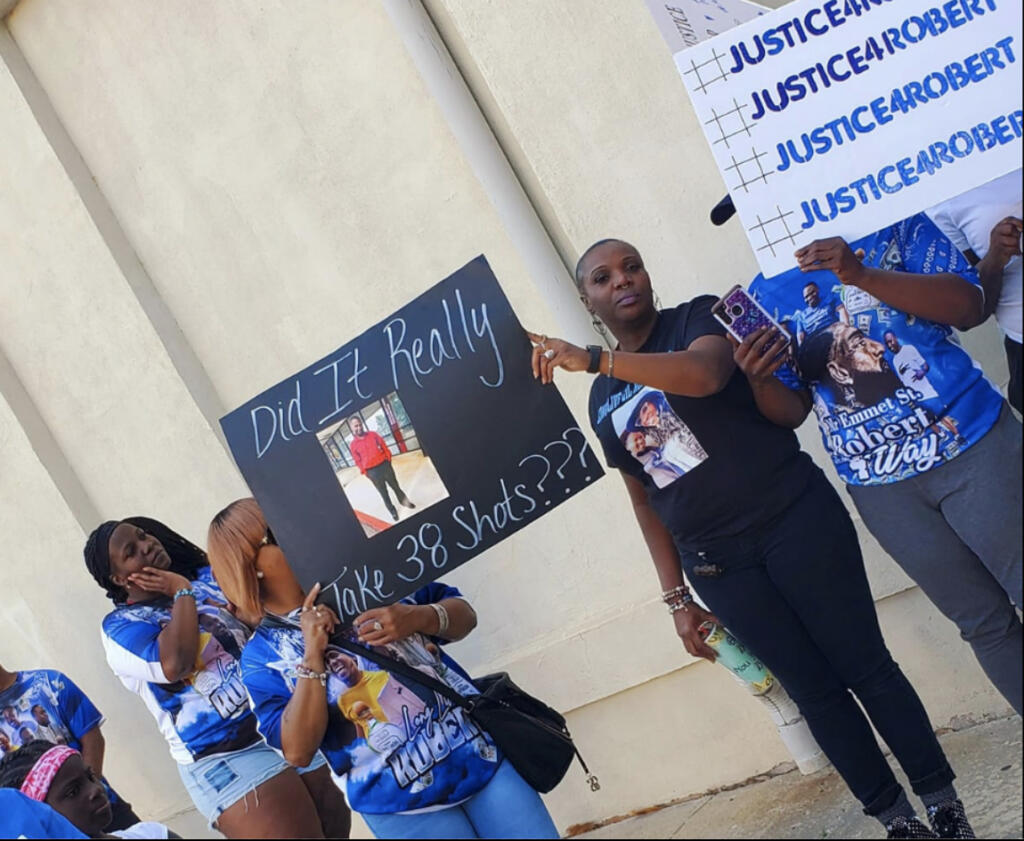 "The next step is to find the officers responsible and seek charges for excessive force," said Tiffany Cail, who is Wright's cousin. "They gave Robert 38 shots. I would like to see them get 38 years."
An autopsy showed that Wright was struck 17 times by gunfire, including 12 that were high-velocity and five consistent with a handgun. The cause of death was listed as "multiple gunshots of head, neck and thorax." The thorax is the area of the body between the neck and the abdomen.
The U.S. Marshals Service Carolinas Regional Fugitive Task Force Officers tried to arrest Wright on April 7 at Americas Best Value Inn on Whiskey Road in Aiken. It was 11:05 a.m.
The task force included a dozen officers, including Deputy U.S. Marshals Christopher Monaghan, Leonarde Cain, Brandon Williams and William Bowen as well as Lexington County Sheriff's Officer Shannon Dykes, Sumer County Sheriff's Officer Kirk Carter, Richland County Sheriff's Officer George Becker, ATF Special Agent O.C. Evans, Aiken Public Safety Officers Ashton Posey, Mark Blades, Jesse Owens and Blake Richardson.
Wright was wanted on federal indictments for possession with intent to distribute cocaine, possession of a firearms in the furtherance of a drug trafficking crime and possession of a firearm by a prohibited person. He was located in the parking lot in a Honda Accord, and he reacted to seeing police by striking Officer Becker's Chevrolet Tahoe and fleeing.
The suspect had a substantial arrest record from Richmond County. Last September, he was jailed for trafficking cocaine and later released, according to arrest records. He is the same man who spent time in prison for drug charges and an aggravated assault.
Wright also beat a murder charge from 2011, when he was initially connected to a fatal shooting of Ashley Dandrea Brown which occurred at Club 5150 on Deans Bridge Road in September 2011. Two others were also charged. Murder and weapons charges against Wright were dropped in 2015.
In April, a protected source told officers that Wright was staying at the Whiskey Road hotel. During a briefing before they tried to capture Wright, a U.S. Marshal's Officer told the task force that the suspect was "likely armed and would flee."