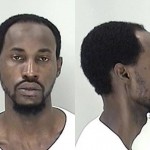 A co-worker has been charged in the death of an employee of Springwood Nursery who was found dead from gunshot wounds early Wednesday, authorities said.
Christopher Lamar Rumph, 31, of Hephzibah (pictured), is being held at the Richmond County Jail on charges of murder in the death of 43-year-old Jerry Wayne Whitten. The two worked together, sweeping the parking lots of local businesses using a sweeper truck.
Authorities said Rumph confessed to the shooting during a second interview. His motive was not immediately clear.
Investigators seized a gun after executing a search warrant of his home. He is reportedly a convicted felon and was not supposed to have a gun.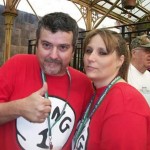 Whitten (pictured at right with his wife Lynn) was discovered by co-workers around 6 am in the parking lot of Springwood Nursery located on Cox Road, near Evans High School.
Whitten was pronounced dead at the scene and two gunshot wounds were discovered, one in the neck and one side torso.
Whitten, of Hephzibah, is survived by a wife and children, according to Columbia County Deputy Coroner Harriett Garrison.
Springwood Nursery has a lot-sweeping service, where they clean up lots for different businesses, Garrison said. Whitten and another man work together on those jobs overnight, and they take turns locking up the office and putting the alarm on when they are done around 3 in the morning.
"This morning, it was Mr. Whitten's turn to lock up the business," Garrison said. "He went up to office to put alarm on and lock everything up."
At  6 a.m., the employees arrived and found Whitten's body outside the office with the door locked and the alarm activated. He had been shot, and he was pronounced dead on the scene.
Garrison said she notified his wife of the death. A message apparently written by the victim's son was posted on Facebook. It says: "Today Heaven got a new angel but he was taken in one of the cruelest way possible. He was shot twice and for no reason at all. I don't know why some people let Satan take control over their lives and hurt Christians."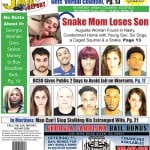 For more crime news, pick up this week's edition of The Jail Report.
MEMORIAL FUND FOR WHITTEN FAMILY:
From James Cartledge with Springwood Nurseries, Inc.
Dear Community,
My wife, Joy and I are devastated over the sudden and senseless loss of our dear friend and coworker, Jerry Whitten! Jerry has been a loyal and amazing member of the Springwood Nursery family for over 16 years and he will be missed very much!! 
Please keep our work family and especially Jerry's wife, Lynn, their precious children and loved ones in your prayers during the very difficult days to come! 
Many of you have reached out already, asking for ways to assist the family, as they come to terms with this monumental loss.
We have established a memorial fund in Jerry's name through Georgia Bank and Trust. You can visit any of their local branches and they would be more than happy to help you. 
We cannot begin to express how much your many, many, calls, messages and texts of concern and support have meant to us! We are a family at Springwood Nursery with many of our employees working here for decades! Jerry was a valued and much loved member of this family and we are all grieving for the Whittens. 
We also are in prayer for the other family involved, through no fault of their own, have also been devastated, because of the actions of just one person. 
Though we are struggling to come to terms with this tragedy, we take great comfort in knowing that Jerry had a deep and personal relationship with Christ and we have no doubt that Jerry is with his loving Savior today! 
Again thank you for the Gracious and loving support of our friends patrons and the entire community! We are extremely humbled and appreciative!