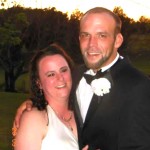 An Aiken man has been charged with fatally shooting an Edgefield couple to death and burning their house in a mysterious double murder that happened in October.
Dameion Thomas, 36, is charged with two counts of murder in the Oct. 9 deaths of 25-year-old Charles "Buddy" Deas and his wife, 25-year-old Andrea "Andie" Deas. The couple is pictured at right.
The couple were found dead in a house fire at Marigold Street in Edgefield, and autopsies revealed both died from being shot. A motive is unclear.
The Edgefield County Sheriff's Office made the announcement Friday morning in a press release to Edgefield Daily.
Oddly, Edgefield County authorities arrested Thomas on Oct. 14, a week after the murders, for credit card theft, and released him on bail a week later. He was arrested Thursday night for the murders. The credit card theft charge was dismissed Friday when he made an initial appearance on the murder charges.
Thomas is pictured here in a 2011 mugshot from Richmond County for DUI.