An Augusta man is being sought by authorities for violating a protective order by stalking his victim.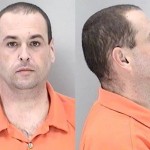 Richard Henry Simpson, 41, is wanted for aggravated stalking. He is described as 5'10" tall and 225 pounds.
Simpson reportedly is known to live in or frequent the area of Deans Bridge Rd., Milledgeville Rd. and Lumpkin Rd, authorities said.
Please contact Inspector Aaron Hannsz or any On-Duty Violent Crimes Investigator at the Richmond County Sheriff's Office with any information as to SIMPSON'S whereabouts. (706) 821-1020 or (706) 821-1080.
Simpson is the same man who threw his wife down on the ground by yanking her hair and then hitting her in early 2015. He got 10 days in jail for that.
Then, in September 2015, he was seen masturbating by his neighbor on Coleman Court. The next-door neighbor said she went outside to feed her dog and saw Simpson standing in the bushes in his back yard next to the fence.
"The suspect was facing her house with his pants down around his ankles, masturbating," a report says. "The victim and the suspect made eye contact and the victim went back into her house to get her phone. When she returned the suspect had gone inside his residence."
Simpson had a no-contact order with the neighbor after he was convicted of harassing phone calls.
For that public indecency charge and a separate stalking charge, he was sentenced last fall to 11 months in jail.
F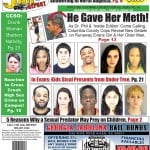 or more crime news, pick up this week's edition of The Jail Report.