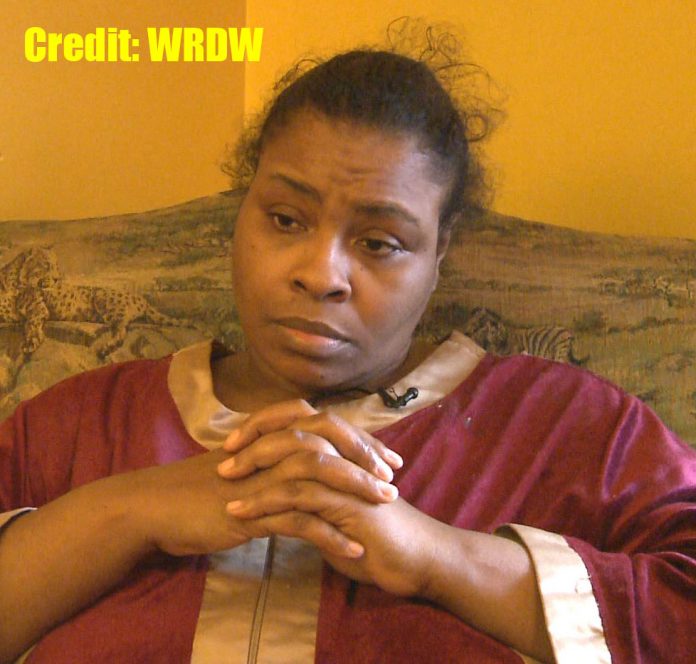 The mother of murder suspect Glenn Riggs II claims her son has mental health issues that should keep him from getting the death penalty if he's convicted of killing Barnwell physician Charles Mann III in Augusta last month.
In a telephone interview today with The Jail Report, Waralene Currie-Riggs defended her son, apologized to the victim's family and provided a violent picture of her 22-year-old son.
(NOTE: Mrs. Riggs also granted an on-camera interview with WRDW-TV, and that story will air at 6 p.m. tonight. WRDW provided us this still video image of Mrs. Riggs.)
Here are the highlights of Mrs. Rigg's interview with The Jail Report:
* She blamed Dr. Mann for his role in the encounter since he was allegedly coming to meet Glenn for a sexual encounter: "That doctor's dirty drawers ain't clean. His drawers are not clean just like Glenn's drawers are not clean." She also wonders why Dr. Mann came to such a bad neighborhood.
* She claims her son is not gay but said she would accept him if he were.
* She maintains her son has mental health issues that should keep a jury from considering the death penalty against him.
* She apologized to Dr. Mann's family: "I lift him and his family up to God. I guess they must think I am a monster, but I'm not!"
* She acknowledged kicking Glenn out of her home after he attacked her multiple times. "He spit on me. That's one of the worst things you can do to a parent."
Riggs, 22, is accused of choking Dr. Mann to death at his Dublin Drive home Nov. 22 after luring the physician there from Barnwell to rob him. Warrants also allege that Riggs beat Dr. Mann in the head with a 25-pound weight. The victim's body was later found in Spirit Creek. WGAC's Austin Rhodes has reported the doctor was in Augusta willingly and may have been involved in online homosexual relationships here.
In her interview, Mrs. Riggs said she can't believe her son would kill the doctor since he saw the pain Mrs. Riggs went through dealing with the violent murder of her own mother in Aiken County in 1982. Her mother, Annie Pearl Currie, was shot five times in a doctor's office and died. She was 30.
"Glenn saw what I went through with my mom. It sticks with you," she said. "How can you go and take someone's life? You can't get that monkey off your back. … There was no need for all of this – a careless, stupid murder. The cancellation of somebody's life."
Riggs remains in the Richmond County Jail without bond on charges of murder and robbery by force.