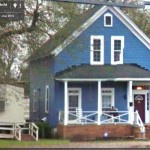 An Augusta woman's body was found on her front porch Wednesday morning and her death is being investigated as suspicious, authorities said.
April Mims, 37, was found dead early Wednesday on her porch at 2542C Milledgeville Road in Augusta, Coroner Mark Bowen said in a press release. She was officially pronounced dead at 8:10 a.m. Wednesday. (House picture is from Google.)
"This death is being handled as a suspicious death by the Coroner's Office and the Sheriff's Office," the coroner said. "No other information is available at this time due to being in the early stages of the investigation."
An autopsy will be done in Atlanta to help determine a cause of death.
Jail Report Note: If you have a photo of Ms. Mims or a memory to share, please text it to us at 803-487-3224.
For more crime news from the Augusta-Aiken area, pick up this week's new edition of The Jail Report, sold at local gas stations for $1.50.