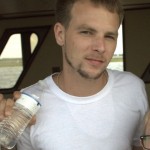 A 25-year-old Augusta man was found dead inside a car on Walton Way in Augusta on Sunday night, a death authorities are calling "suspicious," authorities said.
Justin Bruce Poole (pictured here from a few years ago), of the 2000 block of Greene Street, was found dead about 7:10 p.m. Sunday in a vehicle on the 2900 block of Walton Way. An autopsy will be conducted this week to determine a cause of death.
No suspect has been announced. Stay tuned for any updates.
Note: If you have a better photo or biographical information to share on Mr. Poole, please text it to The Jail Report at 803-487-3224 or email it to jailreport@gmail.com