This shoplifter is wanted for stealing a FitBit from the Evans Target store in Columbia County, according to authorities.
The suspect went into the Target on Jan. 19 and was caught on video stealing the device.
"The suspect can be seen using both hands to manipulate a FitBit on a secured display rack," according to authorities. "The suspect seemingly checks the adjacent aisle for any other persons, returns to the FitBit display, and removes it from the display rack. The suspect exits the store … without making payment for the merchandise.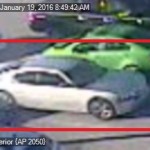 The suspect left in the silver Dodge Charger that is pictured here.
According to Loss Prevention officers, the FitBit display racks have anti-theft locks and the only way to remove the item, without assistance from an employee, is to cut the packaging for the item. Packing for the item was later discovered in the furniture aisle.
Know this guy is? Please call the Columbia County Sheriff's Office at 706-541-2800.
(FitBit is a physical activity tracker designed to help you become more active, eat a more well-rounded diet, sleep better and ultimately, turn you into a healthier human being.)