Two juveniles stole a Louis Vuitton backpack from teen actress Caitlin Carmichael on Friday during a movie shoot in Evans, authorities said.
The 13-year-old actress is filming on a movie set at 4395 Riverwatch Parkway in Evans. That's where her mother, Catherine Carmichael, reported the theft of the pricey bag on Friday afternoon.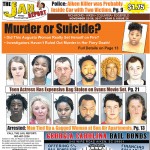 (For more crime news, pick up this week's edition of The Jail Report, sold in local gas stations for $1.75.)
The backpack was inside a trailer being used by Carmichael and other actors and actresses. A Columbia County deputy found two juveniles sitting in a vehicle, and the minors claimed they were waiting on a friend to come out from the building where they were filming because he was an extra, a sheriff's report says.
The boys claimed they never left the vehicle and did not go inside the trailer. But a few cast members that were outside told the officer that the juveniles did leave the vehicle and returned later with bags from Circle K.
The deputy smelled marijuana on the kids and asked them to step out of the car. When they did, the deputy saw a pink card wallet belonging to the victim in the driver door.
"I searched the remainder of the vehicle and found the bag under the rear seat," the deputy said in his report.
Both juveniles were charged with theft by taking and criminal trespassing. They were processed at the jail and released to their parents.
It's not clear what movie Caitlin Carmichael is filming in Evans, but the Tifton native has a long list of credits in her acting career.
She's been acting since age 3 and has appeared in a number of TV shows, including Shake It Up, iCarly, Hot in Cleveland, Law & Order: Los Angeles and Criminal Minds. 
Her movie credits include A Mermaid's Tale, Wheelman, Z Nation and Stephen King's Bag of Bones.