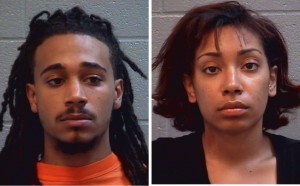 A local man and woman were charged with public indecency Wednesday night after the woman was caught giving the man oral sex in the aisle of an Evans liquor store.
Kevin Marshall, 19, of Martinez, and Antoinette Anquiz, 23, of Clarks Hill, SC, were caught on camera about 7 p.m. Wednesday inside the Spirits Liquor Store on 4435 Washington Road in Evans, according to a sheriff's report.
Witnesses waved down a Columbia County deputy and told them the suspects were inside the store and had been seen committing the sex act in public.
" The act occurred in the public space of one of the store's aisles," the report says. "The act was captured by security cameras."
Store owner Justin Rushin and Manager Pamela David witnessed the act on security camera. The owner confronted the man and woman and told them to leave, but that led to an argument. The fight led outside, where the deputy was flagged down.
The deputy reviewed the video and saw Anquiz preform oral sex on Marshall. The woman admitted to committing the sex act and both were arrested.