A teen who was in custody at Augusta YDC has been charged as an adult with felony obstruction after assaulting an officer there this week.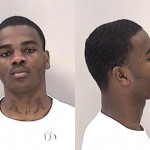 D'Angelo Gulley, 19, started a fistfight with a classmate in the juvenile facility's school building and had become so violent that the teacher fled the classroom, according to warrants. When Correctional Officer Sean Dalberg tried to stop the fight, Gulley struck the officer multiple times in the head with his fist, a warrant says.
The incidents occurred during school at the Augusta Youth Development Campus, located at 3481 Mike Padgett Highway in Augusta.
A Facebook page for the teen indicates he is originally from Albany, N.Y, and has been locked up several times in the juvenile facility since 2012. Juvenile arrest records are not public record.
Now that he is 19 and committed new crimes, he was transferred to the Richmond County Detention Center and charged as an adult with felony obstruction of a law enforcement officer and disrupting public school.
Over the last decade, problems have placed the Augusta facility. The Georgia Department of Juvenile Justice operates a network of 27 lock-up facilities, such as the two in Augusta that together hold 138 juveniles . In fact, A 2012 beating death at the Augusta YDC shed light on problems within the agency.
According to media reports in the last few years, there is a high turnover at the juvenile facility.  Other states and other correctional systems in Georgia have lower turnover.
(For more crime stories, pick up this week's Jail Report, sold in local stores. Pick up your copy today.)