An Augusta teen was arrested early Friday for fatally shooting a 50-year-old man in Blythe, authorities said.
How did they two come together in Blythe? Richmond County authorities have not released any possible motive or relationship between the two. But here is what we know: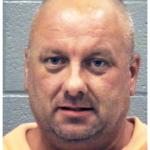 Alec Hadden, 18, of Longleaf Lane, Augusta, was charged with murder in the shooting death of 50-year-old Jerry L. Harden of Hephzibah.
The incident happened around 7 p.m. Thursday at 4473 Etterlee Road in Blythe. Responding officers found Harden lying in the dirt driveway with a gunshot wound. He was pronounced dead at 7:54 p.m.
Investigators linked the teen to the shooting through witnesses, and he was charged with murder and weapon possession. A warrant says Hadden shot the victim in the torso, causing his death.
Harden is already being remembered on Facebook. Ashley Haakinson said, "He did not deserve to die this way!!!! Kids these days do not think about their actions!! You will be truly missed Jerry!"
(Note: If you have a better photo of the victim, please text it to The Jail Report at 803-487-3224)