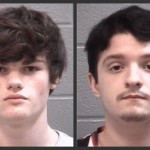 Two Greenbrier High students were skipping school to break into affluent homes in Riverwood and Windmill plantations, stealing guns, jewelry and money, authorities said.
Lindon Oliver Leseburg, 17 (top left photo), and Benjamin Thomas Howard, 17, both of Evans, were charged Monday with five counts of burglary. Both are juniors in high school.
The teens would ring doorbells at their targeted homes and go inside if no one answered, sheriff's Maj. Steve Morris said.
In one of their last break-ins on March 7, a woman inside a home on Darling Way heard the doorbell ring around 11:15 a.m. She didn't answer, but she saw the two young men run around the back of her house and break her window. The 44-year-old woman yelled, and the suspects ran to their vehicle and left.
Maj. Morris said the description of the teens and their vehicle – along with video evidence of them in the vehicle – helped identify Leseburg and Howard as the serial burglars. Both confessed, and much of the jewelry and guns were recovered from a wooded area, where they had stashed them. The cash was not recovered.
In all, four homes in Riverwood were broken into and one in Windmill, Maj. Morris said. One was hit in January, two in February and the last two on March 7.
In some of the break-ins, the homes were unsecured. In the others, the homeowners had alarms, but they weren't activated. There's a lesson there, Maj. Morris said.
"If you have a system, activate it," he said. "It's useless turned off."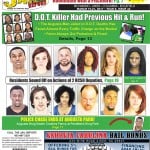 For more crime news, pick up today's new edition of The Jail Report.