How did Richmond County Cpl. Jo Martin avoid getting fired earlier this year for purposefully hitting a handcuffed suspect and sending the man to the hospital?
Despite a recommendation by the chief deputy to fire the veteran cop, Sheriff Richard Roundtree kept him on the force.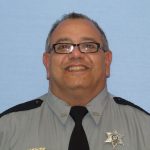 The officer's personnel file shows accomplishments and praise mixed with suspensions, probations and warnings. On one day, Deputy Martin gained the mayor's praise for encouraging Ironman participants to finish strong. On another day, he hit a suspect in the legs with an ASP baton even though the man was under the control by another officer.
One day, he donated his new bicycle to a needy resident. On another day, he slapped a waitress on the buttocks and then arrested her boyfriend for confronting him about it.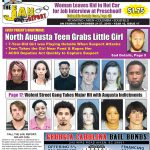 In this week's edition of The Jail Report, we take a look inside the personnel file of the officer. We found story after story of bad behavior and complaints about his actions.
Here are two stories from Deputy Martin's personnel file that didn't make the print edition:
Before getting a different patrol car in April 2017, Cpl. Martin was ordered not to swap out the computer since the docking stations are different. Within two days, he had swapped out computers and computer stands. He was suspended for two days for insubordination and disobeying a supervisor.
A police chase with a motorcyclist during rush-hour traffic ended in multiple violations in June 2017. Another deputy tried to stop the motorcyclist for speeding and couldn't keep up with the suspect.
Despite the suspect's minor infraction, Cpl. Martin chased the suspect by himself without notifying dispatchers or anyone. Cpl. Martin then tried to force the biker off the road twice by boxing him in. Eventually, the suspect struck the right curb and bounced back on the left rear side. The suspect then ran away.
A review by his supervisors shows several mistakes. First, the communication with dispatch was almost non-existent. Second, the corporal used a box technique that was inappropriate since it was a motorcycle, entering a "danger zone" instead of less invasive options, a report says. Third, the chase shouldn't have begun since there was no felony probable cause to stop the motorcycle.
The result of the officer's bad decisions resulted in damage to the patrol car and the motorcycle. A review of the chase showed that Cpl. Martin "appeared to experience tunnel vision."
What he should have done: "Stay focused, use sound judgment, and know when to terminate the chase."
For the entire story on Deputy Martin, pick up up a copy of the current edition of The Jail Report, on stands from Sept. 21-27, 2018.