After arresting the wrong guy, Aiken police have announced a new arrest in the summertime shooting death of a man on Jehossee Drive.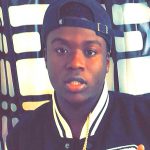 Gerald Christopher Bryant, 26, of Aiken has been charged with murder and weapon possession in the June 25 death of Dante Dunbar (pictured at right). The victim was found suffering from gunshot wounds on the 300 block of Jehossee Drive, and he later died at the hospital.
In this new arrest, police say that Bryant was identified as the real killer by witnesses who identified him in a photo line-up.
Another man was arrested for murder after the shooting, but authorities released him a few weeks later, saying they had the wrong guy. At the time, police say two separate witnesses had identified him as the subject responsible for the murder. But that suspect provided an alibi and additional information that investigators were able to verify.

Bryant is currently being held at the Aiken County Detention Center.  He is a repeat offender who has a long history of arrests with Aiken County, including drug, alcohol and obstruction charges, dating back to his teenage years.
For more crime news, pick up today's latest edition of The Jail Report. Here is the cover.