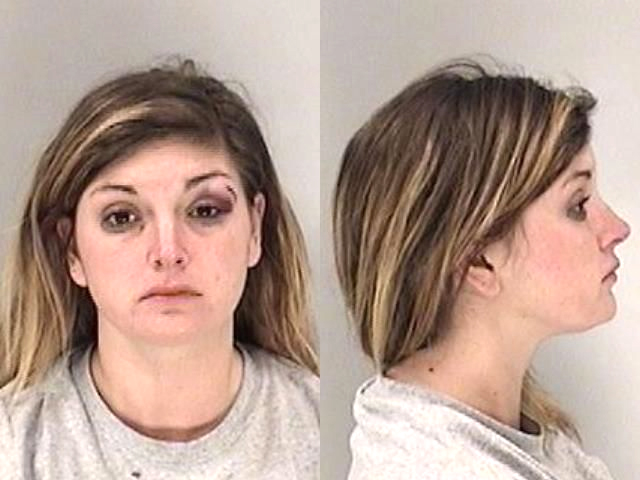 An Evans woman has been arrested for felony obstruction after fighting with five Richmond County deputies and falling head-first into the pavement as they tried to put her in leg irons.
Lauren Comtois, 29, required five stitches at University Hospital on Saturday night after falling out of a patrol car as five officers tried to stop her from kicking.
For more crime stories, pick up your copy of the new Jail Report, sold in local stores.
Comtois' mother, Monique Woods of Augusta, initially called the sheriff's office for help on Saturday night (Nov. 28) since her daughter was drunk and causing problems at her home on Crane Ferry Road.
According to a sheriff's report, Deputy Kenneth Atterton put Comtois in a patrol car to settle her down. When he released her, she started a fight with Deputy James Prior, who had just arrived to help.
Comtois was vulgar, threatened to kick the deputy's a** and then slapped the officer in the face. The two deputies went to arrest Comtois, but she kicked Deputy Prior in his left eye, the report says.
Three other officers arrived as Comtois began kicking the windows of the patrol car. So they worked together to put the young woman in leg irons, but Comtois kept resisting and kicking.
"Ms. Comtois fell out of the rear seat while resisting and obtained a laceration to her left eye just below the eyebrow when her head hit the pavement next to the patrol car," Deputy Prior said.
She was taken to jail but then to the hospital where she received five stitches before being returned to jail.
The Jail Report spoke to Comtois' mother, who said her daughter is a good person who has been struggling with the death of her father four months ago. Comtois got drunk and Woods had to call the sheriff's office.
Woods said the first officer had everything under control until Deputy Prior arrived and caused her daughter to get upset at the prospect of going to jail. Woods said she believes the officers were not careful with her daughter and pulled her too far out of the patrol car in handcuffs, allowing her head to slam onto the pavement. Woods said the impact knocked her daughter unconscious.
Comtois (pictured at right from Facebook) has been released from jail, but she could not be reached for comment.