Can you help identify these two jerks who are accused of stealing a donation jar for the Wounded Warrior Project last week from the Martinez Taco Bell.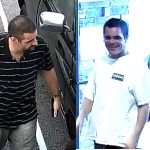 At 1 p.m. last Tuesday, the men took the donation jar from the counter at the fast-foot restaurant at 415 S. Belair Road in Martinez, authorities said. It contained about $260 cash.
Both subjects fled the area in a white Kia Forte 5, authorities said.
If you recognize them, please call the Columbia County Sheriff's Office at 706-541-2800.
For more crime news, pick up this week's edition of The Jail Report, sold in local gas stations for $1.75. It includes exclusive stories not published anywhere else!