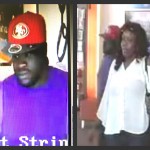 Do you know these people? Authorities say they walked into the AT&T store in Grovetown on April 20 and stole four Alta Fitbit wristbands.
The trio – two men and one woman  – were sneaky. The woman talked to one of the AT&T employees while one of the men took the wristbands from a display and hid them in the other man's pants.
The store manager didn't realize the theft until she noticed the empty display. She reviewed the surveillance video and saw these people pulling the con.
If you know who they are, please call the Columbia County Sheriff's Office at 706-541-2800.
Thanks.