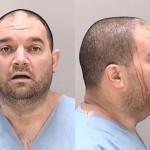 The accused Twin Peaks arsonist was suicidal when he crashed his SUV into the side of the Augusta restaurant and set it on fire, according to a sheriff's report.
"I was supposed to die!" suspect Roland Evan Croyle told the arresting officer while in the back of a patrol car.
Croyle told the deputy that he "intended on being shot twice in the chest and once in the head by responding officers."
Croyle has been released from the hospital and charged with first-degree arson and four counts of aggravated assault. He's currently in the Richmond County Jail, and a mugshot shows injuries to the right side of the face.
A sheriff's report describes what happened at lunchtime Monday after the former Twin Peaks busboy rammed his Mitsubishi Montero into the restaurant on Robert C. Daniel Jr,. Parkway:
Deputy Kirk Watts rushed to the building, where he found flames billowing from the restaurant. He found a shirtless suspect  standing behind his vehicle.  The deputy also found off-duty sheriff's Capt. Scott Gay positioned several feet away from the arsonist. (Capt. Gay had heard the dispatch and rushed over to help.)
Deputies tackled the suspect and got him into custody. They also dragged him away from the front of the building.
"A large portion of the ground around Mr. Croyle's vehicle was covered in fuel where he had apparently spilled it from whatever containers he had used," the sheriff's report says.
For more on the story, pick up tomorrow's edition of The Jail Report.