A newly-released sheriff's report gives the details on why authorities have sought felony charges against Maria Cook, the assistant to Augusta Mayor Hardie Davis Jr. (Read it below)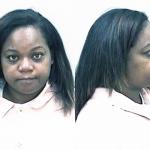 Cook, 38, of Augusta, was back at work Monday morning despite her weekend arrest for simple battery – family violence. However, she was unaware that investigators had obtained additional warrants charging her with aggravated assault and child cruelty on her teen daughter.
There are reports that Mayor Davis may have helped get Cook out of jail on a personal recognizance bond, but he has remained quiet for over 24 hours without comment.
(UPDATE: Just after 12 Noon on Tuesday, WFXG-TV said the mayor had released this statement: "I am aware of the domestic incident involving Ms. Cook, it is unfortunate. My thoughts, prayers, and support are with her and her entire family as they work through this situation privately. Ms. Cook has been suspended pending case disposition and investigation. There will be no further comments from me on this private family matter.)
Also, Judge Kellie K. McIntyre has not returned phone calls from The Jail Report to explain why she gave Cook special treatment that other domestic violence suspects were not given over the weekend.
Here is the unfiltered sheriff's report on the allegations, with the daughter's name removed.
"I, Deputy Brandon Gandy, responded to 3911 Scott Street in reference to a domestic dispute.
Upon arrival I made contact with the caller (victim) at the intersection of Woodside Ave and Scott St. (The victim) is confined to a wheelchair and is paralyzed from the waist down.  She and her mother just returned from eating out. She went outside to the vehicle and observed Ms. Maria Cook, her mother, going through (the victim's) purse. She demanded that Ms. Cook give her back her purse. A verbal altercation ensued. While in the process of attempting to get her belongings from Ms. Cook, the incident became physical. Ms. Cook attempted to choke her by wrapping her hands around her neck and then pushed her causing her wheelchair to tip over to the ground backwards. Once she was on the ground Ms. Cook began pushing her head into the ground multiple times. I observed swelling to the right forehead of (the victim). I also noted that Ms. Cook had scratches around her neck.
Ms. Cook stated that she and (her daughter) did become involved in a verbal altercation and that it did become physical. Ms. Cook stated that (her daughter) began striking her in the upper chest with a closed fist and pulling down on her dress. Ms. Cook stated that while pushing (her daughter) away in defense, (the victim) fell and struck her head on the ground. I observed no injuries to Ms. Cook.
At (the victim's) request, she was transported to AUMC by Augusta Fire Med1.
Photographs of the injuries to (the victim) were taken and are attached to this report (5 photo total).
Based upon the evidence and information at the scene, I determined Ms. Cook was the primary aggressor and placed her under arrest for the charge of Simple Battery (FV).  Ms. Cook was then transported to the CBWDC. 
While in the process of applying for a warrant for the noted charge, AUMC contacted this Agency.  During additional investigation and evaluation by medical staff, Dr. George Hsu observed pronounced strangulation marks around (the victim's) neck and a bruise to her forehead.
Sgt. Cory Carlyle was informed of this additional information and he in turn contacted Sgt. Daniel Madden B8 who approved an upgraded charge of Aggravated Assault (FV) along with an additional charge of Cruelty to Children in the First Degree.  Warrants were obtained and placed on file as Ms. Cook had already bonded out already from the jail under the original charge.       
Kim Naude with DFCS was notified about the incident and the child was left in the care of medical staff until placement could be determined."