A Donald Trump hater was arrested last week for stealing the candidate's signs from a Grovetown property, an incident caught on video from a traffic camera, authorities said.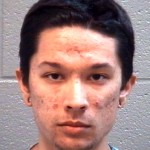 Nathan Ucab, 22, of Sweet Meadow Court, Grovetown, was stopped nearby and confessed that he "does not like Donald Trump and decided to remove the signs," according to a sheriff's report. He was charged with theft by taking.
Columbia County dispatchers were investigating a burglary call last Wednesday afternoon and were looking at traffic cameras at Columbia and Lewiston roads. A dispatcher saw the driver of a tan Nissan Altima pull over, get out and then cross Columbia Road.
"He then began removing Donald Trump campaign signs," the sheriff's report says. "After removing three signs, he continued westbound."
Deputies found Ucab's car and pulled him over. The signs were recovered and returned to their original location.
A deputy called local Republican Party representative Pat Goodwin, who consulted with the Trump's Georgia headquarters before asking to press charges against the man.
Goodwin told The Jail Report that she first made sure the suspect was not a teenager who could be overlooked. She was told the suspect was older.
"Those signs cost," she said. "For someone to go around and take them down and destroy  them because they don't like the individual, that is wrong. We have freedom of speech."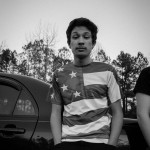 Ironically, the sign thief is not a registered voter and didn't vote in the primary. Ucab, a Texas native, told The Jail Report that he WILL register if Trump becomes the nominee. He defended his theft of the Trump signs as his way to keep the billionaire from winning.
"Since I missed the registration period for the primaries, I felt like that was the least I could do. Make a statement. That Trump is literal trash," Ucab told us in a Facebook message. (He is pictured here in a 2014 Facebook image.)
The suspect used to attend Augusta University as a psychology student but does not anymore, instead working at the Grovetown GameStop store. He said he will do everything he can to make sure Trump does not win.
"Trump is an overtly racist, sexist, ignorant pig who brings out the worst in people, and I can not abide by him gaining support," Ucab said. "I can not abide him being president."