An Uber driver from Augusta was assaulted by a drunk passenger early Saturday in an altercation caught on dash cam video, authorities said.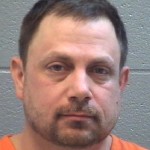 Video: https://youtu.be/7BcvTjECLjw
James Vautaw, 43, of Martinez (pictured in orange jump suit), was charged with simple battery in the assault on driver Matthew Johnson of Augusta. He was booked into the Columbia County Jail.
The driver went to Bar West on Walton Way Extension around 3 a.m. Saturday to pick up Vautaw. A woman approached and told Johnson that she was paying Uber to take the boozer home. It took friends 15 minutes to get the passenger in the car because of his level of intoxication. The suspect's friend, Anne Beckman, also rode in the car.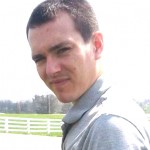 The driver (pictured at right) told authorities that Vautaw was cursing the entire trip to Martinez. Once he arrived, Vautaw struck the driver in the head multiple times, yelling at his friend to run.
"F** this guy!" Vautaw said as he continued pounding the man.
The suspect got out and tried to pull Johnson out of the driver's seat and Johnson maced the man in self-defense. Johnson was finally able to get back in his vehicle to notify the sheriff's office, but not before Vautaw struck the driver-side window of the white 2012 Chevrolet Cruze, a sheriff's report says.
In an interview with The Jail Report, Johnson said he installed dash cam video because of another assault a few months ago that Aiken County authorities didn't take seriously.
In this case, he is unsure why the man assaulted him, but he has his two guesses. He said the man might have been jealous because girls were talking to him at the bar when he pulled up. He also wonders if Vautaw is a Donald Trump supporter who saw Johnson as anti-government.
"When he did get into the car, the first thing that came out of his mouth – except the cursing and threats – was talking about the government. He said I worked for the government. He just wasn't making sense," Johnson said. "He's probably a Trump supporter. Trump's big on government fear."
A sheriff's report says Vautaw works at Fort Gordon as a contractor.
Johnson said he suffered a cut on the side of his eye but he refused medical treatment. He called The Jail Report because he wants justice in the case and to warn other Uber drivers. Johnson has reportedly driven over 3,000 times.
"I am warning drivers, this could happen," he said. "And I am letting passengers know this is not acceptable."
Uber is a transportation network company that allows users all over the world to request private car transportation within minutes, through their smarthphone app.