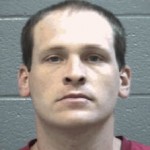 Columbia County authorities on Tuesday arrested the suspected Walmart flasher who was chased out of the Grovetown store a week ago after exposing himself to customers.
Zachary Jack Hyman, 30, of Grovetown, was charged Tuesday with two counts of public indecency. He is also charged with a similar incident just two hours later outside a doctor's office near the Walmart.
And authorities say he is the same man listed as a suspect for allegedly exposing himself to Walmart customers in the parking lot earlier this year! But a case could not be made and he was not charged.
He allegedly returned to the same Walmart on June 28. Customers began alerting store officials that a man was walking through the aisles exposing himself. A manager and an employee started following the man and planned to stop him, but the suspect saw them and ran, escaping through the garden area and running into the woods, a report says.
Authorities reviewed the store's video surveillance and saw that the man was "intentionally exposing his penis to customers in the store."
A report indicates the man was in the store for two and a half hours before running out at 2:37 p.m.
At 4 p.m., a woman was working in her office nearby on Branch Court when she looked out the window and saw the same suspect, a sheriff's report says. The suspect had his penis out and was "playing with himself," the report says.
Authorities brought out their K9 units to search the area. The suspect was spotted but fled the area to a wooded area and escaped capture.
The suspect left behind a hat and a shoe, which authorities took as evidence.
Hyman has a criminal history that includes a conviction for theft. He was charged in March with simple battery in Richmond County, but that charge is pending.
In March 2011, he was arrested on two counts of felony theft in Columbia County, but after lingering in the courts for over three years, the charges were suddenly dropped in 2015.
For more crazy crime news, don't forget to pick up tomorrow's new edition of The Jail Report, sold in local gas stations for $1.50.