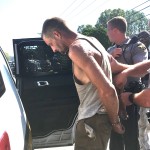 The Aiken County couple being sought in last week's violent chase was captured Monday morning after carjacking a woman at gunpoint and leading officers on another chaotic chase.
James Edward Brown, 30, and Ashley Leanne Trull, 30, are in custody after a chase that ended on Highway 421.
In an interview with The Jail Report, ACSO Capt. Eric Abdullah explained what happened Monday morning: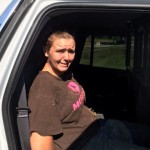 "This was a carjacking. They carjacked a car on Pine Log and Atomic Road. We had been in the area for the past few days searching for them. And then this morning, a little after 10, they carjacked a lady at gunpoint.
"She was able to report it quick with a good description. Deputies were patrolling the area and then the chase was on. They made it into Richmond County, Broad Street area and then came back to South Carolina.
"Highway Patrol ended up doing a P.I.T. (Pursuit Intervention Technique) on them where the chase came to a stop on 421 near Clearwater Street. The girl was taken into custody pretty quick. We had to end up talking the male out of the vehicle. And he finally surrendered. Both were checked out by EMS. And they are on their way to jail."
Resident Kimberly Jones posted the above photo on Facebook showing deputies confronting the suspect on 421. The sheriff's office provided the other photos of the suspects in custody.
Previous Story: – Sept. 1: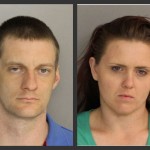 A man and woman are being sought for attempted murder charges after shooting at Aiken County deputies during a chase Thursday night, authorities said.
James Edward Brown, 30, and Ashley Leanne Trull, 30, fled from deputies in a stolen car after a deputy conducted a traffic stop at 7:40 p.m. Thursday in the parking lot of the Langley Bi-Lo.
During the pursuit, the suspects fired multiple times towards the pursuing deputies with a weapon, a press release says. The vehicle pursuit ended when the suspects crashed through a fence on Atomic Road between Silverbluff Road and Pinelog Road, Beech Island. 
The suspects came to a stop in a heavily wooded area and fled from the vehicle. Aiken County Bloodhound team responded with the assistance of multiple agencies including Jackson PD, New Ellenton PD, Aiken DPS, North Augusta DPS, SC Highway Patrol and SLED, searching for the two suspects. 
The suspect vehicle, a 2009 Chevrolet Silverado pick up with a trailer was recovered at the scene. The suspects were not located. 
The suspects are wanted for three counts of Attempted Murder each. Brown is also wanted for Failure to Stop for Blue Lights and Receiving Stolen Goods. These suspects should be considered armed and dangerous. 
Anyone with information is asked to contact the Aiken County Sheriff's Office at 803-648-6811. Individuals may also call Crimestoppers of the Midlands: 888-CRIME-SC (888-274-6372). Callers can remain anonymous and may be eligible for a cash reward up to $1000.
For more crime news, pick up the current issue of The Jail Report in local gas stations.