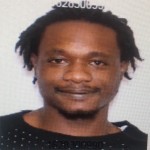 North Augusta authorities need your help to find Garrick Campbell for a Sunday morning shooting on Bradleyville Road.
According to a police report, the 25-year-old suspect tried to kill victim Toron Whiteside because he thought the man was sleeping with his girlfriend. Whiteside was shot in the right foot and was expected to survive.
The girlfriend told police she was hanging out with Whiteside at his apartment Sunday morning when beer got spilled on her. She took a shower at the victim's house to clean up and Campbell arrived and thought her and Whiteside had been having sex in the shower, according to a report
Campbell told his girlfriend that he was leaving in her car to get a gun and shoot them both. She called 911. Meanwhile, the suspect made good on his promise, driving up to the apartment building and shooting toward Whiteside and the girlfriend while they were standing in a breezeway, hitting only Whiteside.
Campbell, who resides in Johnston, later dropped off his girlfriend's car at her home in North Augusta and was picked up by an unidentified individual.
If you know where Campbell is, please call North Augusta Public Safety at 803-279-2121.