He probably thought he was being a Good Samaritan.
He wasn't.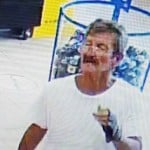 This man found a wallet that someone left on a display at the Circle K on Lewiston Road in Grovetown. Surveillance video shows him going through the wallet inside the store, taking it to his car and then returning it to a store clerk 10 minutes later.
"When the victim gets the wallet back, it is missing $60," authorities said.
If you recognize this guy, please call the Columbia County Sheriff's Office at 706-541-2800.