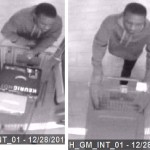 A thief with a desire for bed sheets and a coffee maker is being sought after stealing a load of stuff from the Grovetown Walmart.
Columbia County authorities say the man pictured here entered the Walmart on Dec. 28 and loaded a plastic tote into his cart. He then put an air mattress and bed sheets inside and left the store without paying for the tote. The thief loaded the items into a maroon vehicle.
Next, the brazen thief re-entered the store, loaded up a cart with a coffee maker and a blender and left without paying for those items either!
The value of the stolen items was $423.
Recognize the guy? Please call the Columbia County Sheriff's Office at 706-541-2800.
For more crime news, pick up this week's edition of The Jail Report, which has exclusive stories not seen online or from any other news media.