An Augusta man is accused of spousal rape Sunday after a violent attack on his wife inside their apartment, according to warrants and arrest information.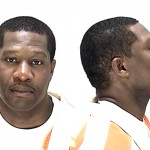 Artis Ruben Marshall, 37, of Lumpkin Road, Augusta, was charged with rape and aggravated assault in the incident.
According to warrants, Marshall strangled his wife, placing her in a rear neck choke-hold with his right arm on Sunday inside their Lumpkin Road apartment. She survived the attack.
"(He) placed his left hand over the victim's mouth causing the victim to be unable to breathe and to lacerate her tongue on both with her teeth," a warrant says,
In addition, Marshall allegedly raped her, according to a warrant.
Other details were not available since the sheriff's report was not complete, sheriff's Lt. Allan Rollins said.
The suspect is being held without bond at the Richmond County Detention Center.