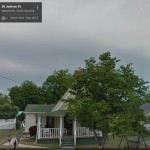 Deputies found the badly-decomposed bodies of a man and woman Thursday afternoon in a Warrenville home.
Sheriff's officers were doing a well-being check at 38 Jackson Street (pictured) when they made the gruesome discovery, Coroner Tim Carlton said in a press release.
"The bodies have not been positively identified at this time due to significant decomposition," the coroner said. "They may have been there days to weeks."
An autopsy is scheduled for Newberry, where the coroner hopes to determine an exact cause and manner of death and identity the pair. The sheriff's office has not released a statement about their investigation.
Release of their names will be pending notification of the next of kin, the coroner said.
For more crime news, pick up this week's copy of The Jail Report, sold in local gas stations for $1.50.