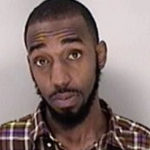 Richmond County authorities are looking for 31-year-old Robert Hale Jr. in Sunday's fatal shooting of a Hephzibah man.
Hale is wanted in reference to a homicide that occurred on the 1900 block of Wylie Drive where victim Antonio Perry was found shot at least once. Hale currently has several outstanding warrants.
Any information concerning this suspect, please contact Inv. Lucas Grant or any Investigator with the Richmond County Sheriff's Office at 706-821-1020 or 706-821-1080.
EARLIER STORY:
Richmond County investigators are still looking for answers in the early Sunday shooting death of Hephzibah father Antonio Perry.
Authorities have said little about the case except that they responded to a shooting on Wylie Drive in Augusta and found the Hephzibah man suffering from at least two gunshot wounds.
Perry, 41, ‪of Southwood Drive, Hephzibah, was taken to Augusta University Medical Center by EMS, where he was pronounced dead shortly before 6:00 a.m., the coroner said. The original call came in just before 5 a.m., he said.
There is no suspect information at this time, and there was no immediate reply to  message left for the victim's friends and family from The Jail Report.
The body is in Atlanta for autopsy.
Perry's Facebook page suggests the victim was a father with at least one child, a son who recently signed a record deal in California. The father is shown traveling across the United States over the last few months, from Las Vegas and New York City to New Jersey and Myrtle Beach. He enjoyed a helicopter ride along the beach just a week ago. He is also an avid poker player.
A woman, who Perry appeared to be dating, told his friends to beware of a fake page in her name seeking donations for Perry's funeral. "We have NOT created a Go fund me for Antonio Perry!!!!" she said.
If you have a better photo or memory of Antonio Perry to share, please text it to The Jail Report at 803-487-3224.
For more crime news, pick up the latest edition of The Jail Report, sold in local gas stations.