If you think Richmond County deputies have encountered Malik Williamson before Sunday morning's bloody confrontation, you're right.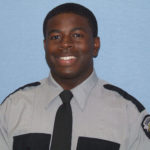 The repeat offender has been given slaps on the wrist for over a decade despite his bad behavior. That may explain why he was free at 5 a.m. Sunday when RCSO Deputy Ray Parker responded to shots being fired on 12th Street and Maxwell Street.
The officer found Williamson on a nearby road and the suspect "refused to obey commands given to him" by the officer, authorities said.
"As Williamson turned to walk away from Deputy Parker, Williamson removed a knife with brass knuckle handle from his waistband at which time Deputy Parker discharged his duty weapon, striking Williamson," a GBI press release says.
Officers performed first aid on the suspect and he was taken to Augusta University Medical Center for treatment. An update on his condition was not available on Sunday night.
The sheriff's office asked the Georgia Bureau of Investigation to conduct an impartial review of the shooting. Once complete, it will be turned over to the Augusta Judicial Circuit District Attorney's Office for review.
Meanwhile, Williamson's criminal record in Richmond County shows the man has been accused over the years of being a bad guy who did not cooperate with officers. Yet, he always got off.
Repeated arrests. Always probation. Williamson, 33, started fighting cops when he was a teenager in 2005 and got busted for obstruction of officers. He pleaded guilty to the misdemeanor offense and got his first of many probationary sentences and small fines.
In June 2011, he was accused of drunk driving and eluding police when they tried to pull him over. Yet, prosecutors dropped the DUI charge and let the young man plead to reduced charges that resulted in probation and fines.
Williamson was caught with marijuana in 2012 and the case was pending for four years, when a guilty plea led to more probation and fines.
Yet, even on probation, he was caught seven months later with cocaine and a concealed weapon, authorities said. Despite his probationary sentence, a judge accepted his guilty plea and gave him more probation and fines.
Less than a year later, Williamson was caught with controlled substances and driving drunk. Still, no jail time. More probation and fines with cozy pea deals, according to online records.
In January 2014, Williamson was accused of obstructing officers, but he was given a plea deal that led to probation and a $200 fine.
Other charges over the years include driving while license suspended, driving without a license and disorderly conduct. None of those charges ever resulted in jail time.
Stay tuned for updates…