A young man in Jackson who confessed to strangling a family pet in 2016 has killed three more dogs while awaiting trial on the original killing, Aiken County authorities said.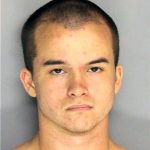 This time, though, Marc Antony Cantrell tried to burn down the house to cover up the gruesome deaths of three dogs at his home on Third Street in Jackson. The 20-year-old suspect says he was high on meth when he killed the animals, according to a sheriff's report.
Cantrell is the same person who confessed in November 2016 to strangling and stabbing his mother's dog to death. He was charged 18 months ago with ill treatment of animals and torture, but the case has been lingering in General Sessions Court without resolution, allowing him to remain free.
Details of the newest pet killings are spelled out in disturbing details in a sheriff's report:
• A small brown and white dog was found with a laceration to its neck, hanging from a drawer near the front door.
• A large black dog was discovered on the laundry-room floor with an arrow to the back of its head.
• A small brown dog was found in the laundry room with a cut to the neck and tied to a small shelf unit.
Cantrell told investigators that he blacked out from injecting amphetamines. "When he came to, he had an ax in his hand and saw that he had killed the dogs," a report says. "He burned the house to try to cover up the fact that he killed the dogs because he had killed his family's dogs in the past."
The suspect took gasoline from the garage and started a fire in the home with a candle and a lit paper towel, a report says.
The fire was set Friday, and firefighters with the Jackson Volunteer Fire Department discovered the dead animals after extinguishing the fire. The suspect's grandmother called also called Aiken County dispatchers and said Cantrell had confessed to setting the fire.
In a Jackson Police Department report, Cantrell is quoted as saying he had used meth and had not slept in four days when he killed the dogs. The Jackson report includes this statement: "The subject was asked if he could tell his mother anything, what would it be. He stated that she needed to get away from him and leave him alone."
Previous Case.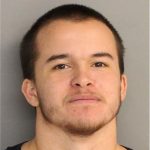 In the 2016 case, Cantrell told authorities that it "felt good" to kill dogs. He also confessed to his mother that he had previously killed two dogs and a cat.
On Nov. 26, 2018, Cantrell's mother came home and couldn't find her dog. Her son later admitted to strangling the pet. He said it "made everything right," a sheriff's report said.
It's unclear why the Solicitor's Office has taken so long to address the 2016 case. On Tuesday, Cantrell remained in the Aiken County Detention Center.
For more crime news, pick up the current edition of The Jail Report, sold in local gas stations.