A meteorologist for WJBF-TV was arrested Friday for allegedly trading explicit photos with a 13-year-old girl, according to arrest warrants obtained by The Jail Report.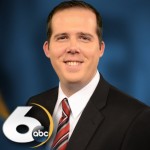 Kevin Andrew Niewood, 27, was charged with sexual exploitation of a minor and electronically furnishing obscene material to a minor. He is in the Richmond County Jail.
"We are deeply concerned by the allegations," said Bill Stewart, General Manager of WJBF-TV. "Pending the investigation, Kevin Niewood is suspended from his duties at WJBF."
According to warrants, Niewood got the 13-year-old girl to send him a photo or video of her breasts and vagina over the Internet. In addition, he sent her a photo of his penis.
A profile page for Niewood still active on the TV station website says that Niewood is WJBF News Channel 6's meteorologist on their weekend Good Morning Augusta newscasts.
From the page: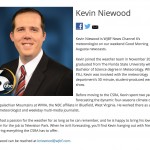 "Kevin joined the weather team in November 2014. He graduated from The Florida State University with a Bachelor of Science degree in Meteorology. While at FSU, Kevin was involved with the meteorology department's 30 minute, student-produced weather show. Before moving to the CSRA, Kevin spent two years forecasting the dynamic four-seasons climate of the central Appalachian Mountains at WVVA, the NBC affiliate in Bluefield, West Virginia. He worked there as a weekend meteorologist and weekday multi-media journalist."
SEXUAL EXPLOITATION OF CHILDREN: "Kevin Andrew Niewood did unlawfully and knowingly entice a minor, she being 13 years old into exchanging visual medium which depicts a portion of said minor's body, specifically her breasts and vagina. This offense occurred via the internet from a computer in the accused home, located, in Augusta, Richmond County, Georgia."
ELECTRONICALLY FURN.OBSCENE MATERIAL TO MINOR MISD: "Kevin Andrew Niewood did unlawfully and knowingly distribute a picture of his penis which depicts sexually explicit nudity and which is harmful to a minor, she being 13 years old with the intent to create sexual excitement of said minor. This offense occurred via the internet from a computer in the accused home, located, in Augusta, Richmond County, Georgia."