An Augusta woman has been connected to last week's violent assault and armed robbery of an elderly woman who had her purse stolen outside Macy's at Augusta Mall.
Verneka Patrice Ware, 49, is wanted for armed robbery and aggravated assault in the case. Verneka is known to frequent the Harrisburg Area, and she has warrants out for her arrest at this time. She should be considered armed and dangerous.
A wanted poster doesn't say how she was connected to the crime, but it shows her in line at a store. Authorities have previously connected suspects to robberies and thefts when they use the stolen credit cards.
Any information concerning this subject, please contact Inv. Kenneth Atterton, or any Investigator at the Richmond County Sheriff's Office: (706) 821-1020 or  (706) 821-1003.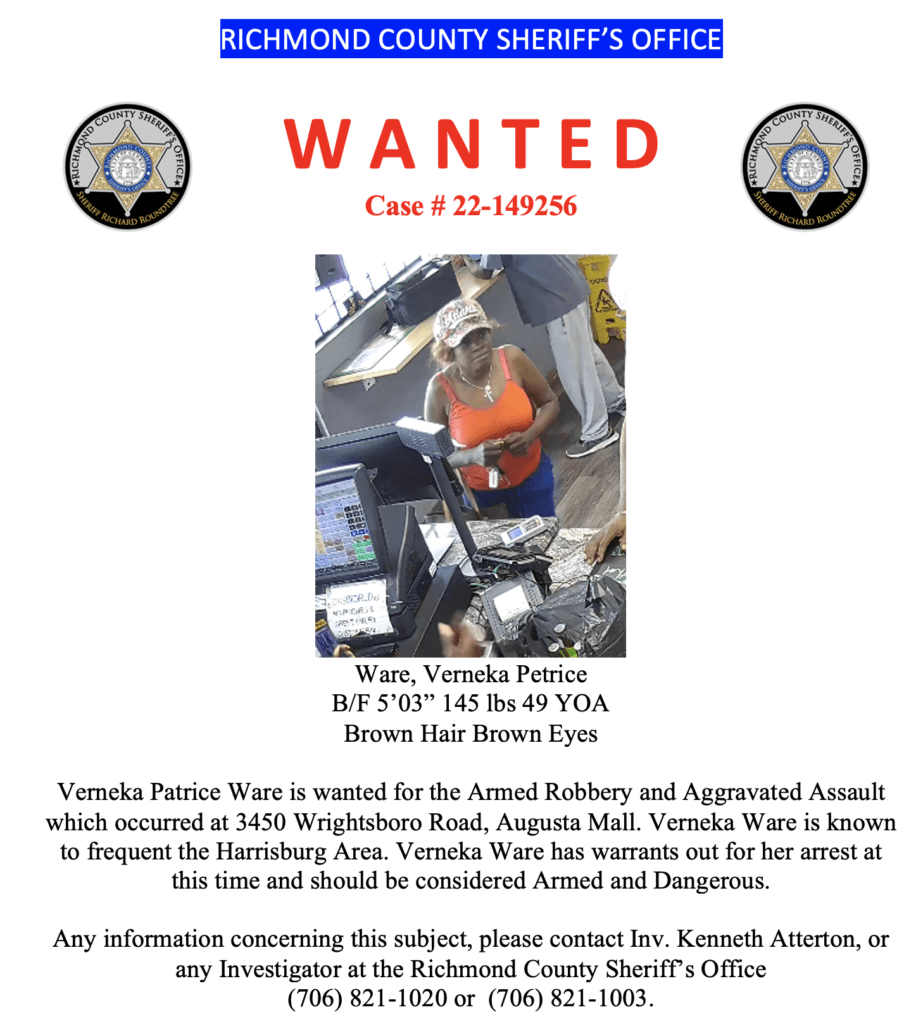 Original Story: 
Richmond County deputies are investigating after an 80-year-old Grovetown woman was robbed at gunpoint outside the Augusta Mall at Macy's.
Deputies were called to the parking lot of the mall around 3:15 p.m. Tuesday, authorities said. On scene they located the woman who had a bloody laceration on the top left side of her head, above her eye.
The elderly Grovetown woman told deputies she was robbed by a man who pointed a gun at her and threatened to shoot her.  The man then stole her red bag, which contained her black cell phone and a wallet inside.
When the 5-foot-4-inch tall woman fought back, the man hit her in the head with the gun once and fled.  The woman was evaluated by EMS on scene and taken to the hospital for further treatment.
Deputies later recalled having seen a black male running through the mall parking lot carrying a red item. The call for the robbery came in minutes later.  The man was wearing a black shirt and tan pants. He was bald with a thin build.
Deputies reviewed security camera footage and watched as the man got into a tan/silver sedan which was missing two front hub cabs. The vehicle did not have a state license plate. The man then continued driving toward Wrightsboro Road.
Deputies continue to investigate.