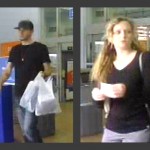 This woman used two stolen gift cards at the Grovetown Walmart on March 2 and left with this man in a dark Kia Soul, authorities say.
Can you identify them? The gift cards were stolen two weeks ago from a vehicle on Spotswood Drive in Evans.
If you recognize them, please call the Columbia County Sheriff's Office at 706-541-2800.
Thank you!