An Augusta man was shot dead on the road where he lives Sunday night, the coroner said.
Mishon Robinson, 24, of the 3100 block of Alpine Road, was shot at least once and rushed to Augusta University Medical Center, where he died at 11:23 p.m. Sunday, Coroner Mark Bowen said in a press release.
The call to authorities came in about 10:45 p.m. Sunday.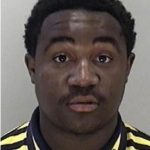 In that case, investigators are searching for Jamal Montrell Moss, 20-years-old (right).
Moss should be considered armed and dangerous.
According to his Facebook page, Robinson is a father who worked locally. He also posted a picture of himself in jail. He has convictions for armed robbery, burglary and marijuana possession in Richmond County. A Facebook friend who was remembering him today said that Robinson "just got out."
For more crime news, pick up the new issue of The Jail Report, sold in local gas stations.