A violent Aiken man who disappeared last year with his estranged girlfriend has been captured in Texas after a standoff with authorities, and the 19-year-old girl was found safe.
Julio Vargas, 30, was wearing an Atlanta Braves shirt Friday when he was taken into custody in San Angelo, Texas. He is being held without bond on the Tom Green County Jail. His mugshot is shown here from the sheriff's office website.
In September, Aiken County authorities launched a public search for 19-year-old Brittany Nichole Winburn (pictured), who was last seen with her estranged boyfriend. Vargas was described as an armed and dangerous criminal with a reward on his head for missing court.
Winburn's family had reported her missing on Aug. 24, saying she had not been seen for three weeks from her home on Crawford Avenue. Texas authorities were expected to interview her after finding her, but it was not immediately clear whether Winburn was being held by Vargas or was with him willingly.
The Jail Report ran Vargas' picture on the Wanted page for several weeks after a report by Georgia-Carolina Bail Bonds that the suspect jumped bail on charges of kidnapping, assault & battery and possession of a weapon during the commission of a crime.
In July, Vargas went on trial in the 2015 attempted rape of a 19-year-old Jackson woman, but he failed to appear in court. The judge issued an active bench warrant on him.
According to a sheriff's report, the unidentified teenager was found in the roadway needing help on Windsor Road at 7:30 in the morning. The victim told authorities that Vargas pulled a knife on her and threatened to rape her.
Check back here for more details in the coming days…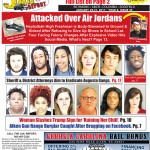 For more crime news, pick up this week's edition of The Jail Report, sold in local gas stations for $1.50.