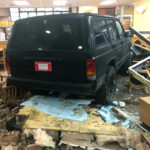 A police chase in Augusta ended Wednesday night with the suspect crashing his SUV into a Bojangles restaurant.
The Richmond County Sheriff's Office became involved in a vehicle pursuit about 9 p.m. Wednesday after a subject driving a black SUV almost hit a deputy's patrol car while driving on Tobacco Road.
"The subject refused to pull over, leading deputies on a chase where the subject lost control of his vehicle at Tobacco Rd and Mike Padgett Highway," a press release said.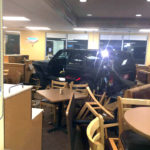 "The subject drove the black SUV inside the Bojangles restaurant knocking a hole in the wall where the vehicle came to rest.  The subject then fled on foot where he was apprehended a block away.  There were no injuries reported at this time."
The name of the suspect has not been released. Stay tuned….
Sgt. Caleb Lee