Richmond County authorities made a quick arrest in an overnight murder at Castle Pines Mobile Home Park.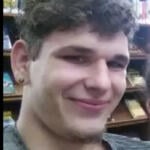 Peter Berkery, 38, has been charged with murder and weapon possession in the fatal shooting death of 21-year-old Raven Fulton of Warrenton, Ga.
The shooting happened just after 7:30 p.m. Tuesday at the mobile home park at 3866 Mike Padgett Highway, a press release says. Deputies arrived to find a victim who had been shot at least one time. That individual was transported to Augusta University Medical Center and later died at 12:04 a.m. Wednesday.
The shooting suspect was apprehended at the scene, authorities said. He lived at the mobile home park and has a history of shoplifting arrests on his record.
A motive was not released.
Note: If you have a better photo or memory of the Raven to share, please text it to 803-487-3224.