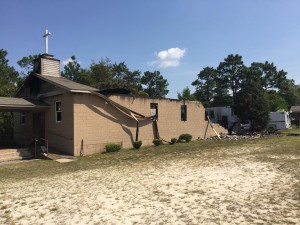 A predominantly black church in Warrenville was damaged by fire overnight and the FBI and SLED are helping Aiken County authorities investigate the cause.
A fully-engulfed fire at Glover Grove Baptist Church was reported by a 911 caller at 3:26 am. Friday, and crews from the Langley and Midland Valley fire departments rushed to put it out. No one was injured.
The fire was extinguished around 4:36 am. Friday, Aiken County sheriff's Capt. Eric Abdullah said.  Forensic investigators were called in to assist in determining the origin and cause of the fire at the church, located at 331 Project Road in Warrenville.
Forensic investigators are being assisted by SLED and the FBI.  Capt. Abdullah said it's too early to say if this was arson. "Our focus on the investigation is trying to determine the cause," he said.
Church officials say the building has been destroyed. And at least one church member tells The Jail Report that they are wondering whether the fire has anything to do with arsons being reported this week at black churches in the South.
The Glover Grove fire comes just days after reports of arson at black churches in Georgia and North Carolina.  In Macon, Ga., God's Power Church of Christ was burned beyond repair Wednesday. The Bureau of Alcohol, Firearms, and Tobacco got called in, which has been the standard procedure for church fires since the late 1960s.
The same day, a fire was set at Briar Creek Road Baptist Church in Charlotte, where investigators have ruled it an act of arson.
The fires come just a week after nine people were killed at Charleston's Emanuel African Methodist Episcopal Church, another act of violence perpetrated against predominantly black churches.