The uncle of a 5-year-old Hephzibah boy has been arrested in connection with the child's preventable death over the Christmas holiday.
Calvin Lee Douse (pictured above), was trying to cross Tobacco Road after dark on Dec. 23 with nephew Jeremiah Douse. They stepped into the path of a Ford pick-up truck and the impact led to fatal injuries for the child, who died at the hospital on Christmas Day.
Authorities say the 59-year-old uncle was under the influence and was not using a crosswalk when he led the boy into the road. Jeremiah is pictured at right. Funeral services were held Friday morning at Mount Olive Memorial Gardens.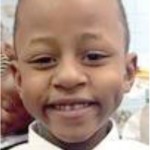 Douse, of Raintree Drive, Hephzibah, has been charged with pedestrian under the influence and crossing the roadway not in a crosswalk. He has been freed on bond, according to a jail website.
Douse has been awaiting a jury trial from a May 2017 arrest for DUI, failure to maintain lane and driving without headlights after dark. Calvin Lee Douse has earlier traffic convictions for driving with unlawful alcohol concentration, leaving the scene of an accident, and more.