An Evans mother threatened to kill a bus driver who called the cops Wednesday when the mother wasn't at bus stop to pick up her child, according to a sheriff's report.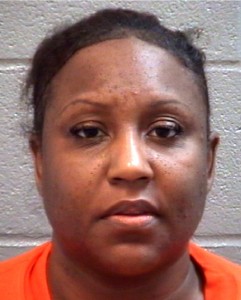 Lakeya Collins, 39, was charged with terrorist threats & acts, according to a Columbia County sheriff's report.
Bus driver Lisa Hughey tried to drop off Collins' son on Wednesday afternoon and returned three times to the bus stop to find no one there to pick up the boy. So the driver called the sheriff's office since it had become an ongoing problem.
Deputies arrived and found an older child in the boy's home. He said he did not hear the bus come because he had headphones on.
Deputies tracked down the boy's grandmother and told her to have Collins come to pick the child up from school. The grandmother came herself, but school officials wouldn't release him since she wasn't on the approved pick-up list, a sheriff's report says.
Once Collins arrived at the school, she went to the front office and started screaming, "Why did you call the cops on me?" and was beating her hand on the front desk.
Officers escorted her outside to calm her down. That is where the mother allegedly said, "I'm going to kill that b***h" and was pointing at the school when she made the threat, a report says.
Deputies then arrested Collins and took her to jail.